Steve Migs Blog 03/08/16 "We Drew The Maps"
March 7, 2016
I debated this morning if I wanted to post this blog, and I finally decided that I would.  Yesterday I learned that an old bud of mine passed away due to his lifelong battle with Cystic Fibrosis.  Thank you in advance for taking time out of your day to read this, and if you are able to...please donate to the Cystic Fibrosis Foundation.  

---

I'm writing this on my couch, sitting here at a loss for words. Death man. Death is a real bitch.  As we live life we all make friends, and sometimes because of life we lose touch. Facebook is a blessing and a curse, we are able to keep tabs on our friends, even when they don't know it…but we aren't really spending time with the people that we call friends. This realization hit me like a ton of bricks today.
 
I moved out here in 1997. The first year sucked. I barely knew anyone, and I was starting to doubt myself for moving across the country to try live in the Northwest.
 
As time went on, I started to make friends, and I joined a band called Peter Parker.  Making music was a blast, making new friends was even better.  Soon after joining the band, the front man of my band, Matthew, invited me out to see his friend's band.  We went to the Re-Bar to see this band called Harvey Danger.
 
There were maybe 30 people there, but my mind was blown. They had this unique, yet poppy sound to them that pulled me in. As a drummer I always gravitate towards the rhythm section. Their drummer, Evan Sult, reminded me of myself...he was playing simple drum beats but every once in a while he would do something out of left field just to make things interesting.  He served the song, he is a talented drummer, but didn't need to flaunt it. 
 
Their bassist, Aaron Huffman, was the epitome of cool.  His bass lines were unlike any other bassist I've ever heard.  His bass lines were at times taking the place of a lead guitar part, his bass lines dictated the melodies of their songs.  He didn't just lay down a groove, he drove their songs.  When he kicked in the distortion pedal, all bets were off…this is my new favorite band.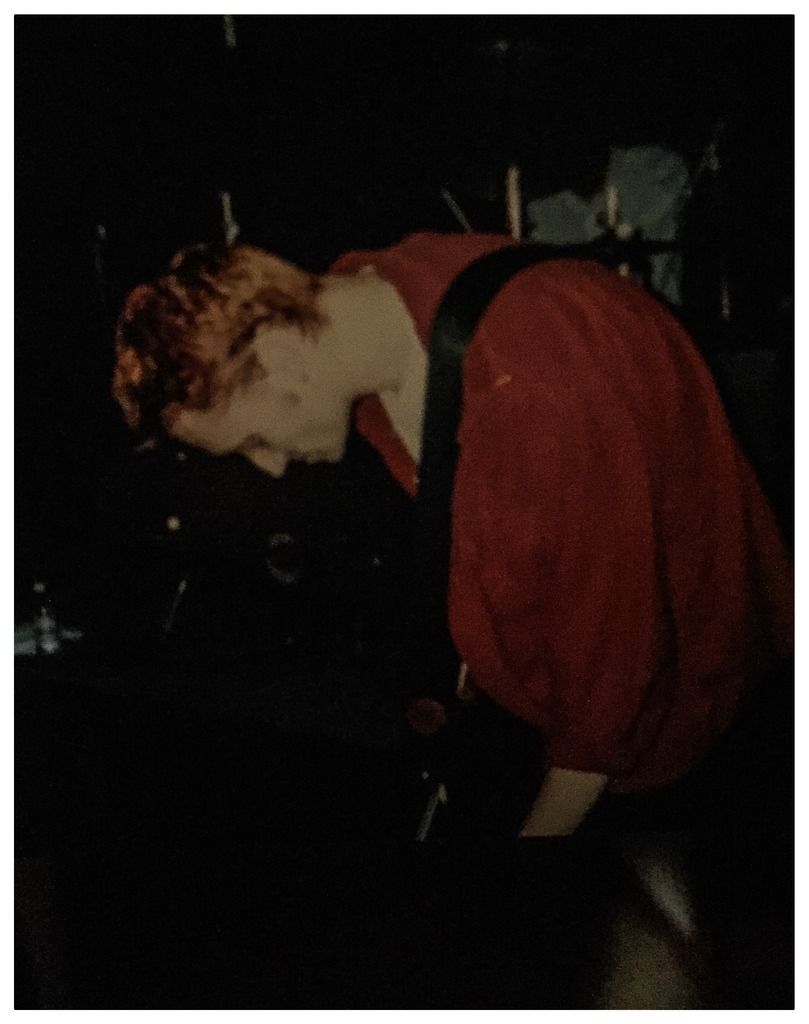 The whole time he was doing this just sitting down. After that show I have seen Harvey Danger (our band was fortunate to play many shows together) innumerable times, and every other time he was standing. Not sure why he sat that time.  That night I got their CD, the original self-released pressing of "Where Have All The Merry Makers Gone?", and that CD became the soundtrack of my summer.
 
Now you might be wondering why I'm rambling about the time I was first introduced to Harvey Danger...well… I just found out the news that Aaron Huffman died on Sunday after a long battle with a respiratory illness.
 
Ugh.
 
I would be lying if I said Aaron and I were close.  At one time we were though.  Like many, I was lucky to know him and spend time with him.  Most of my mid to late 20's were spent sharing stages together (Harvey Danger was beyond nice enough to let us ride their coat tails once they broke big), going to concerts together, and hanging out at my buddy Pete's house (they were roommates) in Ballard.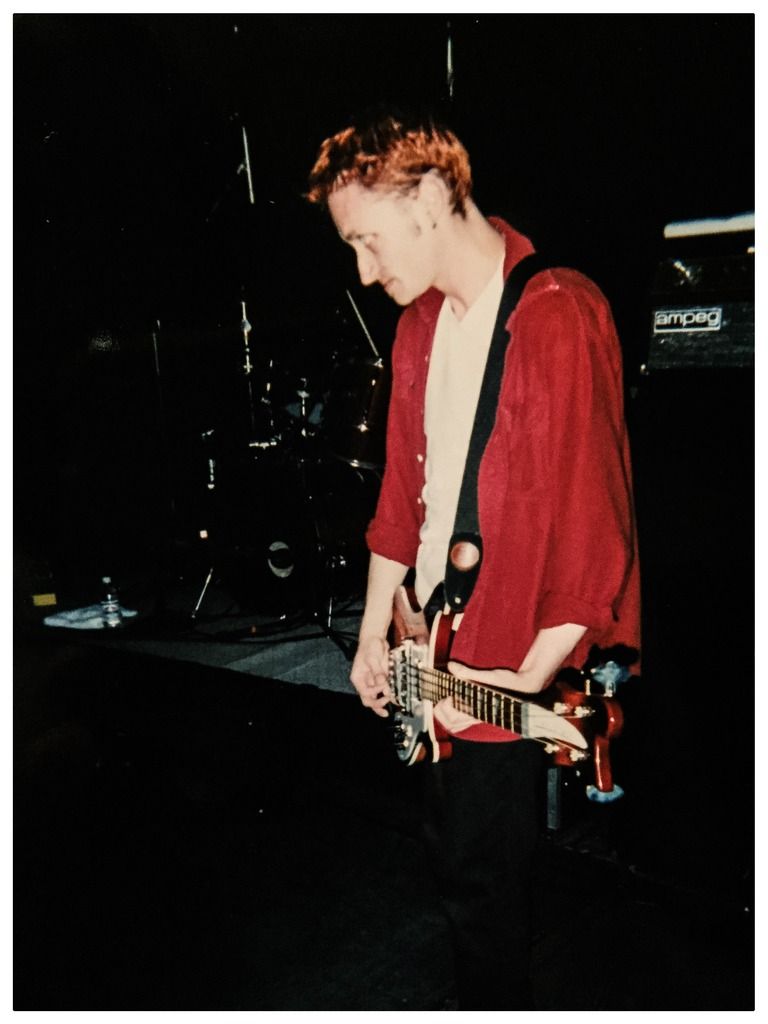 I owe so many great memories to Aaron.  After Aaron and Harvey Danger saw success, he made it a point to help our band out.  They already did enough by letting us play shows with them to sold out crowds, hell even mentioning our band when they were on MTV's TRL… but Aaron knew we were young and broke, so he created a record label, "Magic Palace Records", solely so that we could put out a record.  We were the only band on his label, ever.
 
Aaron paid for everything, the recording of the record, he enlisted their producer John Goodmanson to produce our debut CD (titled "Migliore!"), and the pressing of the record. Thanks to Aaron, we have a great memory of a moment in time. He didn't have to, but he wanted to because he was our friend and he had the ability to do so.
 
Not only did he help fund our band's first record, but for a brief period, Aaron played bass in our band.  Our bassist, Mona, was pregnant so Aaron stepped in and learned our songs and played many shows with us, many in the most random places...like high school auditoriums in places like Poulsbo…he never acted that he was too cool to play small venues to small crowds with us.  These were some awesome times. 
 
One of my favorite shows we played with Harvey Danger was when they had us open for them and Death Cab For Cutie at the Capitol Theater in Olympia…playing in front of that many people was insane!
 


 
Over the years we enjoyed not only playing shows together with our bands, but also going to shows.  I'll never forget us going to see Marcy Playground at The Crocodile. We figured it would be a fun show, but the band had some trippy light guy touring with them and both Aaron and I spent the rest of the night geeking out about how awesome the light show was.  Another fun show was seeing a band called Travis, that we were both particularly fond of, I know look back fondly on that show as earlier in the night I took him to a private acoustic performance (an End Session - as I worked at The End at that time) with Travis, where we got to meet the band.  This is during a time where we didn't have cell phone cameras to document everything, so I truly cherish this picture even more now.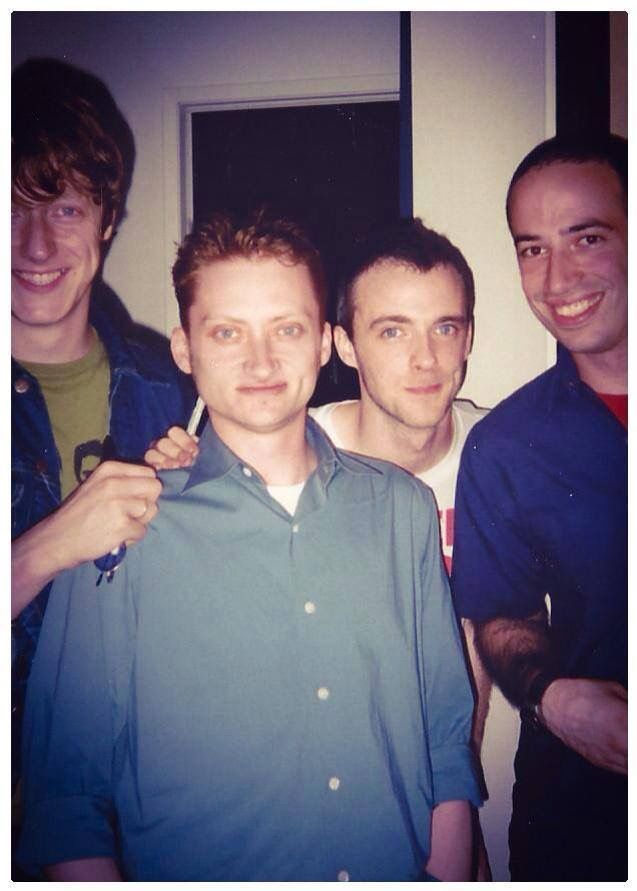 I am real sorry that I'm rambling.  I'm writing this fighting back tears...I feel terrible for his family, for those close to him.
 
I'll leave you with this.  This is something I have always been proud to be a part of, but now it hits me in a way I can't put into words.
 
Many years ago, Aaron had a song he wrote that he wanted to record.  At the time he wanted to record this (with John Goodmanson, who is/was a busy fella)... his drummer Evan was out of town, so he called me to see if I would record with him and John Roderick.  Me? Ugh, yes! The opportunity to record with him was already humbling, but John Roderick too! Many of you know John from his band The Long Winters, a band I absolutely love, hell some of you know his name as he is involved with local politics these days, but for me… John fronted The Western State Hurricanes, a local band that I was a huge fan of. 
 
Aaron had a song he wrote called "We Drew The Maps", the main part of the song was set to a drum machine, but he wanted live drums in it as well.  As the day went on, Aaron allowed me to screw around and add maracas and cymbals and a tambourine to the drum machine, he loved that I wanted to spice it up.  After we did that song we then recorded a jam session that we worked out there in the studio.  I'll have to go through some boxes to find it…it had some magical moments, and some clunky ones too...at least from my playing.  Those two gentlemen made my primitive drumming sound, well, cool.
 
I remember how geeked out we were to go back to his house and play the song for our bud Pete, and anyone else willing to listen. 
 
The song needed a chorus (vocally) and we even talked about recording more, but that never happened and time passed and then my only interaction with Aaron was keeping tabs on Facebook. 
 
Oddly enough that song did see the light of day, it ended up as a "B Side" to their "Little Round Mirrors" single.  It became a Harvey Danger song! I was so pumped to see that it was on their.  I love that he never added a vocal chorus to the song, he did edit the length of that part down, but other than that it's just the way we recorded it. 
 
Here is the song we recorded. Thank you Aaron for letting me be a part of it.
 

 
Finally I want to leave you with a couple of Harvey Danger's songs.  I feel like these songs show off how interesting of a bassist Aaron was. 
 
This one is called "(Theme From) Carjack Fever":
 

 
Here is "Jack The Lion":
 

 
This is one of my favorite Harvey Danger songs… I remember when Aaron gave me a CD of this song and I was completely blown away by it… it's a rare track that they eventually put on a B-Sides collection called "Dead Sea Scrolls".  The song is called "Defrocked":
 

 
Finally, here is a song that I remember hearing when he gave me a CD copy of what would eventually become their second album, "King James Version"…this was the song that hooked me, and to this day I still think that record is one of the most under-rated records I have ever heard. 
 
The frontman of harvey Danger, Sean Nelson, wrote a very touching article in The Stranger about his friend and band mate... you can read it
HERE
.